3S-GTE ALLOY PULLEY SET
Fits:
- Celica ST205 GT4 with 3s-gte engine
- Celica ST185 GT4, alltrac, Carlos Sainz with 3s-gte engine
- Celica ST165 GT4 with 3s-gte engine.
Kit includes:
- Alloy Crankshaft Pulley
- Alloy Oversized Power Steering Pulley
- Alloy Alternator Pulley
- Alloy Tensioner Pulley (non air-con version) - we also have set without this tensioner, for AC version, please email us for details.
- High-quality Power Steering Belt
- High-quality Alternator Belt
- High-quality Tensioner NSK/KOYO BEARING

All pulleys are CNC machined,
Light weight to reduce power loss.
High quality product.

This gives you quicker throttle response as well as more horsepower and torque.
Saving on rotating mass results in better performance.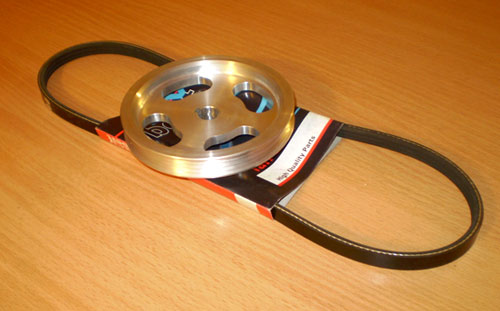 PRICE: 194EUR
EUROPE PRIORITY SHIPPING with parcel number: 24EUR
SHIPPING PRICE IS FOR EUROPE PRIORITY ONLY, FOR OTHER WORLDWIDE SHIPPING PLEASE CONTACT US AND WE WILL BE ABLE TO CALCULATE COMBINED AIRMAIL SHIPPING PRICE FOR YOU.