The design of serial OEM anti-rollbar ends is based on spherical uniballs, so it?s the part that will spend rather quickly. Especially on the road with poor quality.
Construction, which we suggest has no disadvantages. Polyurethane, which forms the connecting element silencing is resistant both on road conditions and weather.
Very effectively stifle virtually no vibration wearing.
An additional bonus is the proposed construction of a delicate improve the running characteristics.
Spherical power before moving on stick stabilizer must be quite extended on the one hand, (near the internal curve), and tightly on the other (near the outer curve).
Polyurethane does not give the slack in the proposed construction, and stick stabilizer starts to work immediately.

We give You the highest quality product structure similar to the elements used in car-sports, adapted to the requirements of the average driver and not causing the loss of comfort.
You have to feel it in Your own vehicle!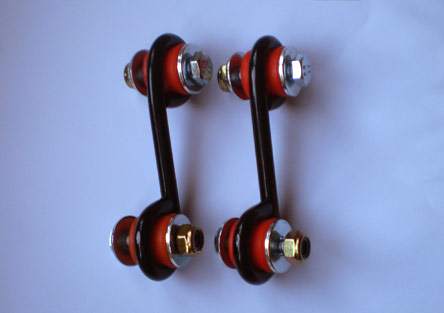 PRICE 52EUR
EUROPE PRIORITY SHIPPING: 11EUR
SHIPPING PRICE IS FOR EUROPE PRIORITY ONLY, FOR OTHER WORLDWIDE SHIPPING PLEASE CONTACT US AND WE WILL BE ABLE TO CALCULATE COMBINED AIRMAIL SHIPPING PRICE FOR YOU.