SUNSHADE WING SPOILER
FIBERGLASS LAMINATE REAR SUNSHADE WING SPOILER,
FOR:
- CELICA MK III liftback RA61 [82-85]
- SUPRA MK II MA61 [82-86]

New laminate/fiberglass rear wing sunshade spoiler for Celica and Supra in a bargain price.

Lightweight fiberglass sunshade wing is a copy of new genuine Toyota part.
Wing is with 6-point mounts [3 for each side]. This means you will need to drill mounting holes.
All our parts are new and never been used.

As all fiberglass parts, it needs to be prepared for painting.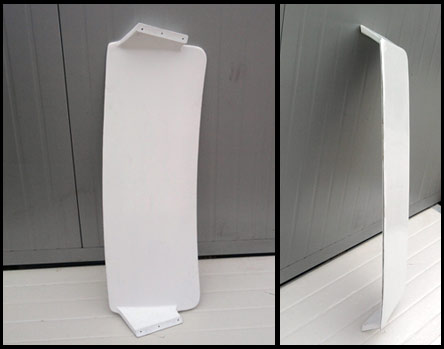 PRICE: 89 EUR
EUROPE PRIORITY SHIPPING: 49 EUR [big box parcel]
TEMPORARY OUT OF STOCK
(PLEASE CONTACT BY EMAIL ABOUT STOCK DATE)

SHIPPING PRICE IS FOR EUROPE PRIORITY ONLY, FOR OTHER WORLDWIDE SHIPPING PLEASE CONTACT US AND WE WILL BE ABLE TO CALCULATE COMBINED AIRMAIL SHIPPING PRICE FOR YOU.